The White House County Day for Mississippi is Tuesday, September 18. To help prepare, NACo is offering a briefing the night before on Monday, September 17 at 6:00 p.m. Attached is the invitation for the briefing . Please note that Mississippi County day is also in conjunction with Texas.
Please RSVP with your name to Luana Mayfield at lmayfield@naco.org or 202-942-4237 by Wednesday, September 12. When reaching out, please also specify if you plan to bring any guests.
CLICK HERE FOR NACo RECEPTION INVITATION
CLICK HERE FOR NACo RECEPTION AGENDA
NACo Briefing
Atached is a draft agenda of the briefing to give you an idea of what will be discussed. The reception will be held at NACo in the first floor conference center. NACo offices are located at 660 North Capitol Street, NW and are approximately one block from Union Station. 
Additional Luggage
Event attendees are welcome to drop luggage off at NACo at 9:00 am prior to the White House meeting. NACo offices are open until 5:00/5:30 pm. The White House is located roughly 1.5 miles from NACo. You can easily catch a taxi or use a popular ride share app like Uber/Lyft. Please note, even though the White House is nearby, the drive can take between 15-20 minutes during rush hour.
White House Visitors Entrance
The Visitors Entrance to the White House is located on the intersection of 15th Street and Pennsylvania Avenue, near the Treasury Department. Please note that there are no available restrooms at the White House. If necessary, there are restrooms located at the Ellipse Visitor Pavilion and the White House Visitor Center (see map attached), which is roughly 15 – 20 minutes walking from the White House entrance. We suggest arriving at least 30 minutes prior to the scheduled tour time. The tour lasts approximately 45 minutes and is a self-guided tour. The exit will be on Pennsylvania Avenue in front of Lafayette Park.
Prohibited Items
There are a lot of items that are prohibited from entering the White House. Below are some items. This list is not exhaustive. If you run into any issues with an item at the first gate, please reach out to myself of our legislative team so that we can come and retrieve it. There are no lockers or storage bins at the White House, so they will turn you away if you bring in any prohibited items.
Prohibited Items

Permitted Items

Video cameras, cameras with detachable lenses, tablets, iPads, tripods, monopods and camera/selfie sticks
Bags of any kind (handbags, purses, book bags and backpacks)
Any pointed objects, including pocket knives
Strollers and diaper bags
Food, liquids, aerosols, tobacco products, personal grooming items (makeup, lotion, etc)
Guns, ammunition, fireworks, electric stun guns, mace, martial arts weapons/devices, toy weapons, or knives of any kind

Compact cameras
Umbrellas without metal tips
Wallets
Cell phones (talking/texting not permitted)
All items needed for a medical purpose (wheelchairs, electric scooters, glucose tablets, EpiPens, medication, etc)
White House Conference
After the tour you will have to go through security again to get into the Eisenhower Executive Office Building. This entrance is at a different location at the intersection of 17th Street and State Place. If White House officials advise you otherwise, please follow those instructions. We suggest allowing 30 minutes to go through security.
As for content of the meeting, typically no meeting agendas are released until the day prior and speakers/topics vary. Some notable speakers from past events have been the Vice President Pence, Ivanka Trump, Sec. Ben Carson and/or Sec. Chao. If there are any changes to the time/schedule, the administration will send out another email with the update.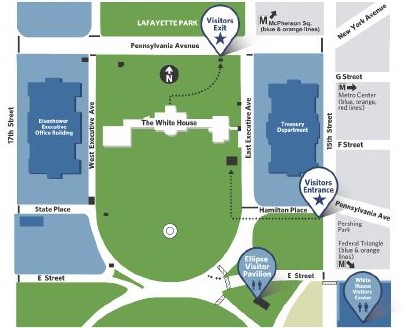 Lunch/Food
If you have time to grab lunch in between the tour and the conference, below is a list of nearby casual dining restaurants. Please note that there is a cafeteria (with limited food offerings) in the basement of the Eisenhower Executive Office Building.
Nearby Restaurants
(Within 5 – 10 minute walking distance from exit)
Subway | Sandwiches Chain
1776 G Street, NW
Cosi | Sandwiches and Salad Chain
1700 Pennsylvania Avenue, NW
Roti Modern Mediterranean
1747 Pennsylvania Avenue, NW
Panera Beard | Sandwiches, Soups and Salad Chain
1750  H Street, NW
Jimmy John's | Sandwiches, Soups and Salad Chain
1717 Pennsylvania Avenue, NW
750 17th Street, NW
Potbelly Sandwich Shop | Sandwiches, Soups and Salad Chain
1701 Pennsylvania Avenue, NW