Risk Management is one of the many services offered by the Mississippi Association of Supervisors Insurance Trust (MASIT) to its members.
Training
MASIT will be conducting regional Risk Management Risk Management training in the areas of law enforcement and employment practices which will be very important in helping your employees, and therefore this program, reduce risks and losses in highly litigious areas of liability.
Dates and locations for upcoming workshops will be announced here and member counties will be notified.
We understand the time constraints your crews are under, for that reason we will plan safety training around your schedule.  One of our goals is to provide informative and educational training that is relevant to the work you perform every day.  In a broader view, MASIT's goal is also to lower the county's liability exposure with your road workers and the public and reducing employees' personal risk. 
HR Hotline and Employment Practices Services
Template Employee Handbook Policies
MASIT has partnered with experienced employment practices attorneys to offer best practice member employee handbook policies.  Contact Renada Skannal at 601.487.0652 for more information.
MASIT HR Hotline
Offering valuable member services provides a benefit to both the Trust and our members, and for this reason we are thrilled to offer our HR Hotline.
The HR Hotline is a legal resource that assists members with time-sensitive employment-related questions by facilitating access to employment attorneys via phone, email and chat using an online portal.  Responses are provided in writing, often with a 24-hour or less turnaround time.  The HR Hotline is available Monday through Friday from 7:30 am until 6:30 pm.
There is a great deal of value in documenting employment related decision-making.   Current trends have demonstrated that regulators and plaintiff attorneys are increasingly focused on the process leading to a decision rather than just the decision itself. 
The HR Hotline is offered on a voluntary basis and is intended to supplement and not replace the legal advice of your Board Attorney and/or your HR Department.  The HR Hotline is yet another layer of protection for your county.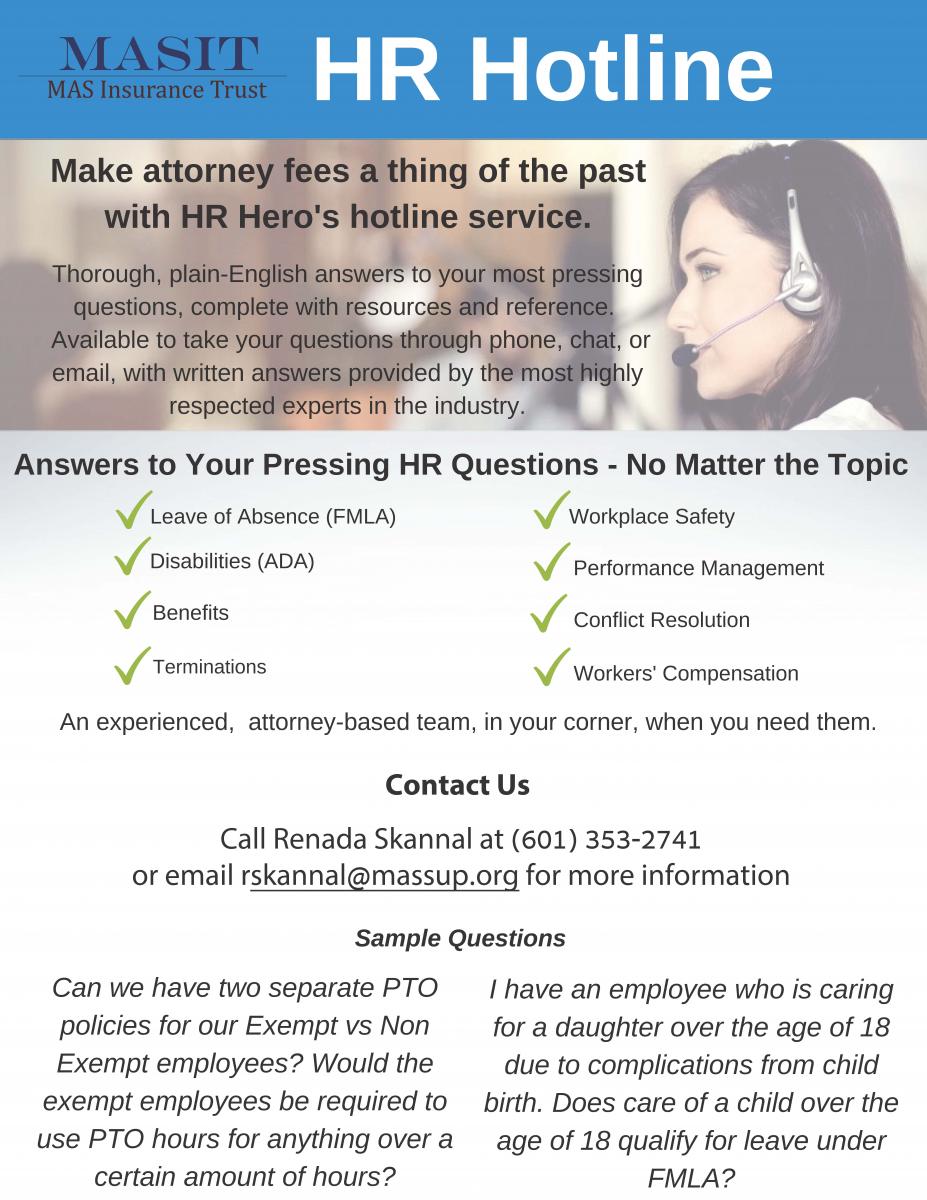 eRiskHub
MASIT's eRiskHub Portal can help your county combat cyber losses by offering tools and resources that you can use to understand exposures, respond effectively and minimize the effects of cyber incidents.  
Key Features
Mobile-friendly Platform – access from any desktop, tablet, or mobile device
Breach Coach® – includes suggested steps to take following an incident, free consultation with a Breach Coach and access to a breach response team
News Center – cyber risk stories, security and compliance blogs, risk management events and helpful industry links
Learning Center – best-practices articles, whitepapers and videos from leading technical and legal practitioners
Risk Manager Tools – free self-assessments, cost calculators, policy templates and a guide to state breach notification laws
Security Awareness – video training classes with follow-up quizzes and a downloadable guide to best-practices security awareness training
Experts/Vendors – a directory to quickly find external resources with expertise in pre- and post-breach disciplines
Pressure Vessel/Boiler Inspections
MASIT partners with Hartford Steam Boiler (HSB) for all jurisdictional object inspections.
HSB has a 24-hour Inspection Hotline to receive inspection requests.  Requests for urgent boiler inspections, air tank inspections, certificate inspections, new installations and/or authorization of repairs can be made through this single nationwide Inspection Hotline.
Telephone Number: 1-800-333-INSP(4677)
Information Needed:
Identify yourself as a member of County Reinsurance Limited
Location Address of facility to be inspected
Name and Phone Number of contact at facility
HSB Policy Number: FBP2367832
Other pertinent information: Urgency of request, reason for inspection needed, etc.
After the call to the Hotline, someone from HSB will be in touch within 1-3 business days to formally schedule the inspection.
HSB has also assigned a dedicated Account Engineer to monitor jurisdictional inspection activity.  If you wish to discuss any issues directly, please feel free to contact Dan Webster per the information below:
Daniel Webster, Account Engineer
Phone: (770) 392-6206
Email: Daniel_Webster@hsb.com
If your county is interested in any of MASIT's Risk Management services, please contact our office at (601) 487-0652.  You can also complete the training request form and return to us via email or fax.